Axiale plunjerpompen in tuimelschijf en gebogen asontwerp zijn bedoeld voor het medium- en hogedrukbereik. Talrijke variaties in de ontwerpen, prestatiebereiken en instellingsopties bieden ideale oplossingen voor mobiele en stationaire toepassingen.
Wij leveren pompen zijn als volgt:
1. Axiale zuigerpompen
2.Externe versnellingspompen
3. Interne tandwielpompen
4. Motorpompen
5. Van pompen
6. Historische zuigerpompen
7. Elektrohydraulische pompen
Als u een vraag heeft, aarzel dan niet om het mij te laten weten.

Axiale zuigerpompen Swash Plate Productbeschrijving:
Geoptimaliseerde middendrukpomp voor krachtige machines
Maat 45 - 180
Nominale druk 280 bar
Maximale druk 350 bar
Open Circuit
Axiale zuigerpompen Swash Plate Feature:
Door aandrijving voor het monteren van verdere pompen tot dezelfde nominale afmeting
Goedgekeurd voor hoge snelheden
Verhoogde functionele betrouwbaarheid
Hydrostatisch ontlastte tuimelschijflager
Grote verscheidenheid aan bedieningselementen
Weinig geluid
Swashplate ontwerp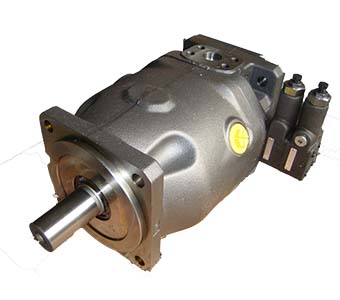 Axiale zuigerpompen Tuimelschijf
Tabel met waarden
Size

45
71
100
140
180

Displacement
geometric, per revolution




Vg max

cm³

45
71
100
140
180

Nominal pressure




pnom

bar

280
280
280
280
280

Maximum pressure




pmax

bar

350
350
350
350
350

Maximum speed

at Vg max

nnom

rpm

1800
1800
1800
1800
1800

Flow

at Vg max and nnom

qV nom

l/min

81
128
180
252
324

at Vg max and n = 1500 rpm

qV 1500

l/min

67.5
106.7
150
210
270

Power

at qV nom and pnom

P

kW

38
59.7
84
118
151

at qV 1500 and pnom

P 1500

kW

67.5
106.7
150
210
270

Torque

at Vg max and pnom

M

Nm

200
317
446
624
802

Weight (approx.)




m

kg

30
47
69
73
78
Over ons :
Siedman (Xiamen) Hydraulic Technology Co; Ltd is een professionele leverancier van hydraulische producten, Axiale zuigerpompen tuimelschijf. We hebben ons eigen merk Mannesmann Rexroth en leveren ook producten van BOSCH-REXROTH. Wij bieden goede kwaliteit, beste service en redelijke prijs. Onze producten omvatten pomp, motoren, cilinder, kleppen, manifolds en platen, elektronica, systemen, energie-eenheden, accumulatoren, filters, oliebehandeling, oliemeettechnologie, gereedschappen en configurators.
Na vele jaren van ontwikkeling hebben we verschillende agenten in binnen- en buitenland gevestigd, met een uitgebreide en geavanceerde hydraulische oplossing voor mechanische en technische toepassingen, industriële automatisering, markt voor hernieuwbare energie, enz., We richten ons op het leveren van producten en diensten die consequent de verwachtingen van onze klanten overtreffen en voldoen aan wettelijke vereisten. We leveren producten van topkwaliteit op tijd en bereiken klantentevredenheid door voortdurende kwaliteit en procesverbetering. Neem gerust contact met ons op voor al uw wensen.
Product Categorie : Hydraulische pomp > Axiale zuigerpompen